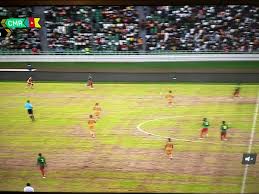 After the closure of the Ebimpé stadium and the non-homologation of the Yamoussoukro stadium, the Ivory Coast has no more ground to host the 2022 World Cup qualifiers in Qatar.
The Yamoussoukro stadium at a cost of FCFA 47 billion not approved by CAF and a relocation is in sight for the next Elephants meetings.
Hard blow for the Ivory Coast. At the top of their eliminatory group at the 2022 World Cup with 4 points on the clock after 2 days, the Elephants will not be able to host Malawi on October 6 at home on the next day. Indeed, the Ebimpé stadium is unavailable due to lawn repair (its deplorable condition was controversial during the match against Cameroon earlier this month) and the African Football Confederation has not approved the Yamoussoukro stadium. Therefore, Patrice Beaumelle's men will have to welcome their opponent to a neighboring country, probably Senegal or Ghana.
"This Tuesday, the national coach, Patrice Beaumelle will go to Senegal (for an examination of the Lat Dior stadium in Thiès) and the general manager of the national selections in Accra (…) for a verification of the installations and to make our choice", announced the President of the Standardization Committee of the Ivorian Football Federation (FIF), Mariam Dao Gabala, in front of the media.
A relocation that Senegal, for example, had narrowly escaped for the first day of qualifying and which is all the same bad for a flagship nation of the continent …